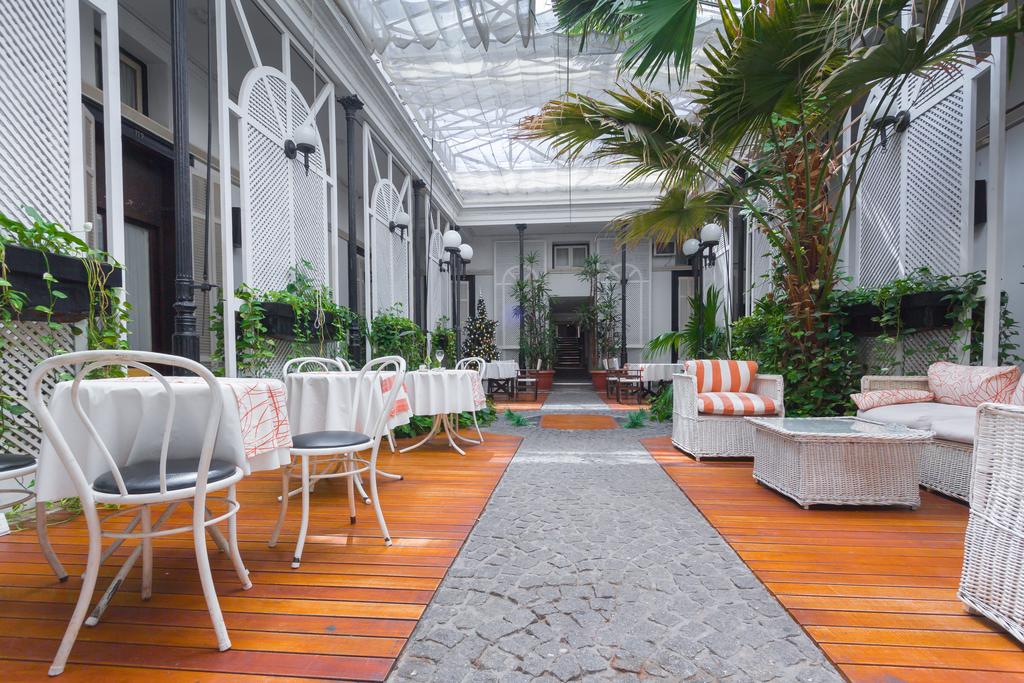 CITY HERITAGE
In the heart of the hotel: the "Plaza Jardín" garden, its lampposts, cobblestones, and a natural green area under a large glazed dome, achieve the perfect balance between the old and modern style.
A unique and creative style throughout the hotel. And the essence of the best hotel tradition is in your invisible heart: A CUSTOMER SERVICE THAT YOU WILL NOT FORGET.
At the best location; 60 9 de Julio Street, at the downtown city. It is located in the commercial, administrative and business center of the city. It is the perfect starting point for tourism activities.
Services
52 rooms
Wifi throughout the hotel
Parking
The Source Resto Bar
Plaza Jardín lobby
Meeting Rooms
Room Service
24 hours medical assistance
Fitness center
Open Club
Luggage deposit
Watch in 360°
ITS HISTORY
The facade of the Paraná Hotel Plaza Jardín has been declared of State Interest by the government of Paraná, according to the preservation programs of the city's heritage.
Both the façade and the rest of the building have been well preserved since its construction dates back to the end of the 19th century.
The architectural project belongs to the brilliant Architect Juan Bautista Arnaldi, author of the Paraná Cathedral project among other outstanding achievements.
This hotel was inaugurated as such in 1946 by the same family that even today, through its descendants, is dedicated to its commercial exploitation. It is the only hotel still standing from that time.
The splendid Italian-style façade has been revalued with a suitable luminous design that highlights its particular elegance. A pleasant surprise for the area called Plaza Jardín, is a garden of refined design with a refreshing natural green area, lampposts, umbrellas, under a large glass dome, a place that portend the warmth and quality of the hotel services.
OUR CITY
PROVINCIAL CONVENTION CENTER